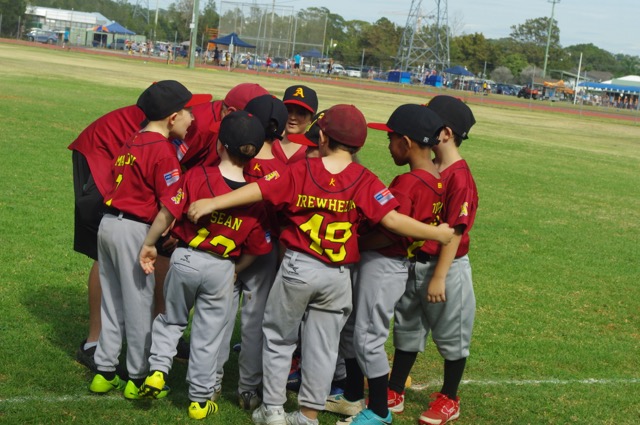 What ages can children play at?
We adhere strictly to the guidelines and regulations set out by Baseball NSW, this includes only allowing kids to play that fall under the ages set out in the 2020/21 Baseball NSW Age Matrix.
If your child is older than the ages contained in the matrix, then they can play in one of our Senior teams. Unfortunately if your child is younger than the dates set out in the matrix, we look forward to welcoming you to Arncliffe Scots next year!
Uniform requirements for Junior players
For information about our uniform, including where to get various bits and pieces, head to our extensive blog post here.
2020/21 Summer Competition Draw
This is the draw for the upcoming season, as set out by the CSBJA: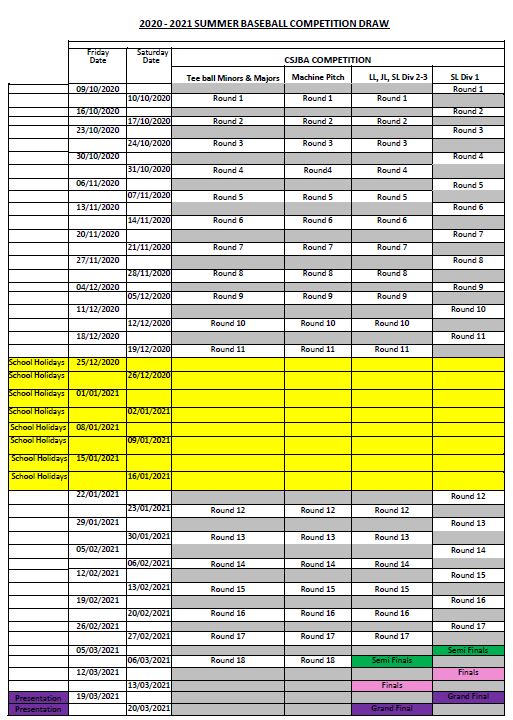 Parent helpers
We cannot exist without volunteers and we're a family, all in this together! Part of having your child involved in a team sport, is being a good role model for them.
At all home games at Phil Austin, we ask each team to provide someone to assist with the Canteen and the BBQ. Often this can be split into smaller shifts, enabling everyone to catch a part of the game as well as helping out.
We also ask parents and guardians to help out with training and on game days, whether this is through scoring, managing, base coaching or helping get kids out on the field. 
It is not fair to expect that the team manager abandon kids on a game day and man the canteen or bbq, they need to be in the dugout managing the kids. Unfortunately, this has often been the case. 
Please remember that our Coaches are all volunteers and often have kids in your child's team as well.
What's the CSJBA?
Arncliffe Scots Junior teams play in the Cronulla Sutherland Junior Baseball Association or CSJBA competition during the summer months.
There is currently no winter season, as kids tend to play other sports such as soccer during the colder months of the year.
Some of the Clubs that participate in the CSJBA comp are:
Cronulla Sharks
St George Juniors
St Pats
Bonnet Bay Beavers
Jannali Comets
Yarrawarrah Tigers
Giants
Illawong Marlins
Bosco Braves
Eastern Suburbs Dolphins
This does mean you will sometimes have to travel to games across the St George and Sutherland areas to play, as not all games are at Phil Austin.